My wife and I were blessed to live in the central part of Wyoming for a few years while serving as pastor of a small church in Casper. While the western side of Wyoming
(Jackson Hole, Yellowstone & Grand Teton National Parks)
is renowned for its beauty, there's beauty all across this incredible state. In the few years we spent in Wyoming, we never got to travel over to those areas but I was still fortunate enough to see some jaw-dropping beauty within a few hours – some of it within a half-hour – of my own home.
I guess what I've come to love most about photography is the fact that I can look back on each of these photos and relive the moment. I can recall the place, the feeling, the excitement, wonder, awe or sheer joy I was feeling at the time I was framing and snapping the picture. While I can still appreciate the work of many other photographers, there's nothing like being able to look at a picture, lean back and remember what you were feeling when you captured that moment.
I love my home state of Texas and it's true that Texas does have its own beauty, but looking back at these photos sure makes me long to go back to Wyoming. It is truly a beautiful place.
NOTE: Many of the photographs taken of Wyoming were snapped with an iPhone camera, which is all I had until my family surprised me with a Nikon D3100. The image quality and "noise" may be a bit more noticeable in these images.
I was often awestruck at the sunrises and sunsets in Wyoming, and so very disappointed in how rarely you find these types of "golden hour" shots in Texas. It wasn't until I had moved back to Texas - while doing some research on low-light photography - that I came to understand the role humidity and elevation play in the colors of a sunset. With the elevation and very low humidity in Wyoming, it's no wonder "the skies are not cloudy all day" and the sunrises and sunsets are so breathtaking. While it's true that clouds often add "personality" to an image, sometimes the stark clearness helps portray the sense of magnitude.
I recall standing here in the vale between Casper Mountain and Muddy Mountain and not just
seeing
, but in a sense
feeling
the vast expanse of this incredible country. Truly a moment to be savored…
Edness K. Wilkins State Park was about 20 minutes from the parsonage where we lived during our time in Casper, WY. This place turned out to be one of my very favorite "retreats" to go and enjoy the quiet solitude. It was rarely crowded (maybe on a holiday weekend) and especially in the evenings, if you drove further into the park and were willing to walk for a few minutes. I found this particular setting in the late hours of afternoon and returned on numerous occasions just to sit and enjoy the silence. This was truly my "Quiet Place".

Turning out to be one of my favorite shots, this late evening sunset out at Trapper's Route - a campground/park about 45 minutes from where I lived - looks like a wildfire out of control across the top of the ridge. In reality, it's the last blazing rays of an incredible sunset setting behind that ridge.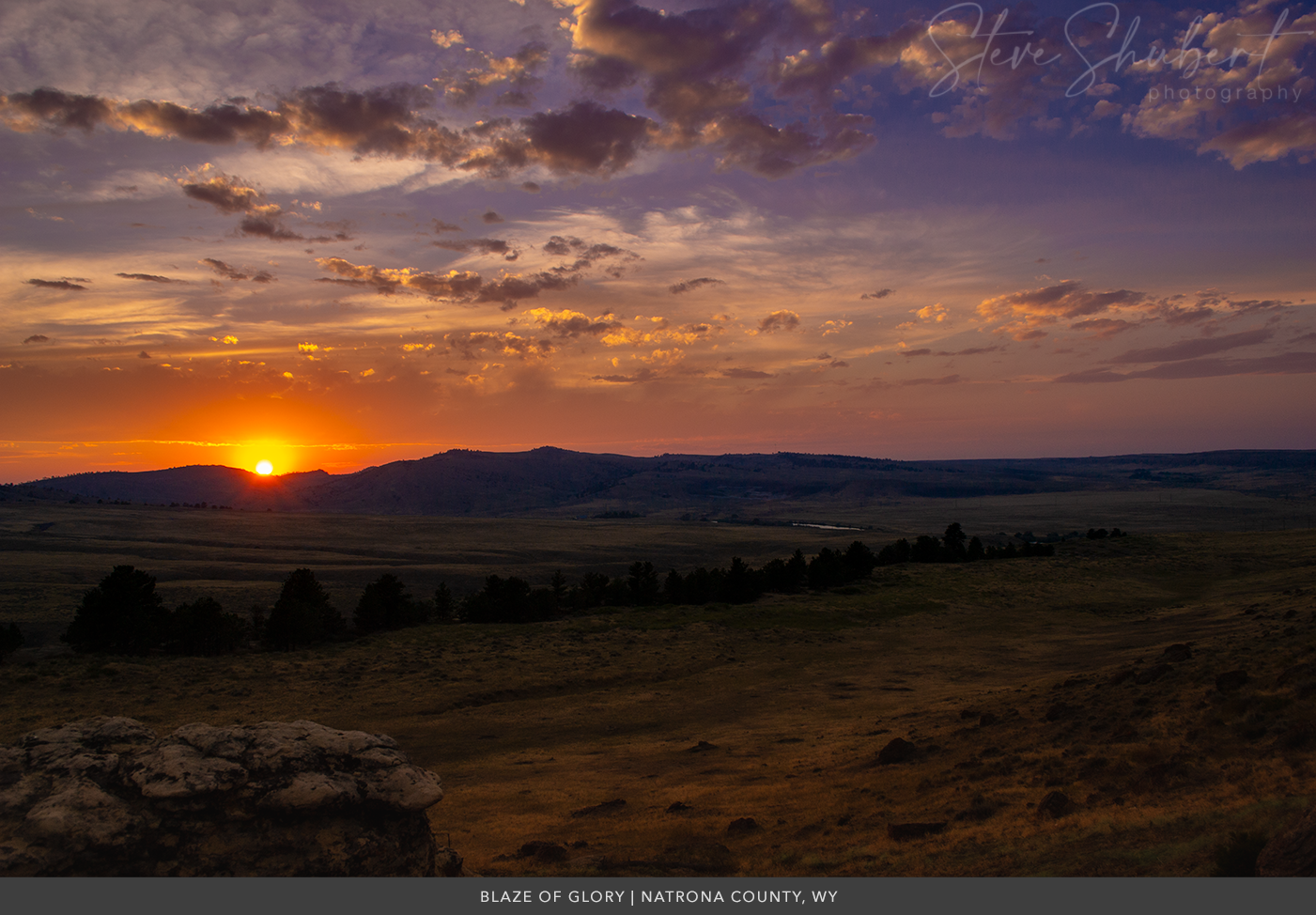 This beautiful spot served on many Wednesday afternoons as my place of study in preparation for our mid-week Bible study. There was actually a small picnic table under a shady tree where I would often go and sit to prepare my lessons. The beauty of the place and the sound of the river was always a joy to me...although it
could
be a bit of a distraction!